Programs are open to the public and free of charge.
Free-will donations graciously accepted.
Parking Deck at 6th & Walnut
Follow us on Facebook – Arts at St. John's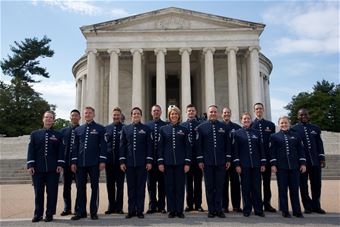 Please join the Singing Sergeants for an evening of Choral Music on 23 FEB 2018 at St. John's Lutheran Church. The evening's concert is part of the Singing Sergeants 2018 annual tour, this year traveling through Pennsylvania and Delaware.
FREE TICKETS are needed for this concert. Click HERE to get your tickets.
UPCOMING PROGRAMS
The Arts at St. John's has planned a season of Great Music in a Great Space with a variety of programs for audiences with different interests.
UPCOMING PROGRAMS:
Sunday, March 11, 3:00 – 8:00 PM
Lehigh Valley AGO Bach Marathon
Tuesdays in April, 12:10 PM + Musicians of the Allentown Symphony
3rd       Eliezer Gutman, Violin, Concertmaster
10th      Jonathan Clark, Principal Horn
17th      Rick Bashore, Principal Oboe
Friday, April 27th, 7:30 PM
Allentown Symphony Chamber Orchestra
An Evening of Baroque Music
Saturday, April 28, 3 PM
The Muhlenberg College Choir and String Orchestra
Gabriel Fauré's "Requiem"
Second Tuesdays in the summer, 12:10 PM
The Bach Choir of Bethlehem
June 12th + July 10th + August 14th
---
The mission of the Arts at St. John's, now in its 26th year, is to view the arts as an expression of God's creation and to enrich the spiritual and artistic experiences of the Lehigh Valley community.
The arts have always been a vehicle for humankind to explore the deep questions of life and its meaning. One of the traditional roles of the church throughout history has been to nurture the arts.
St. John's has a rich heritage of quality music. It possesses an outstanding organ of 4 manuals and 87 ranks. The church is located in Allentown's cultural district. It is therefore appropriate that St. John's be a center to present the gifts of the arts community and develop programs and dialogues for mutual benefit and growth.